9-speed automatic transmission Mercedes-Benz
What is a 9-speed transmission (9G-TRONIC) and how does it work?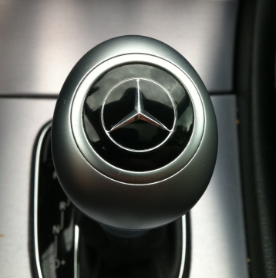 The automatic 9-speed transmission (9G-TRONIC) from Mercedes-Benz is a fully electronically controlled automatic transmission with 9 forward gears and additional reverse gear. The new gradations of the individual gears allow a constant low speed at a constant speed. This has significantly increased driving comfort and reduced fuel consumption by up to 6.5%. The direct control of the 9G-TRONIC (725.0) enables the vehicle to recognise the driver's entitlement, e.g. when overtaking, and can skip several gears.
Which components can be find in the 9-speed transmission?
The 9G-TRONIC (725.0) has 4 planetary gear sets with 6 clutches. The torque converter is able to transmit the motor power without loss (slip). In order to reduce vibrations, a fly-force pendulum damper is additionally installed. On the one hand, this protects drive train components and, on the other, it significantly increases driving comfort.
Special feature
A special feature of the 725.0 transmission is the oil pump. This was called the "smallest transmission oil pump in the world" for publication and also finds its place in the gearbox. However, in case of high lubrication requirements, e.g. at high speeds, it is supported by an additional electronic oil pump, which is also located in the gearbox. The manufacture of these components involves tolerances in the µ range. Deposits on the installed valve block can lead to impairments in the transmission control or even destroy components completely. Just think of "the smallest transmission oil pump in the world".
Demands
This makes it all the more important to comply with the manufacturer's transmission oil change intervals and the quality of the materials used. Our VAICO transmission oil change kits meet these requirements 100%.
VAICO offers three different transmission oil change sets for 9G-TRONIC automatic transmissions:
V30-2377-BEK
The Basic EXPERT KIT+ contains the oil pan, a set of screws (which also includes the transducer drain plug), the overflow pipe and a guide pipe.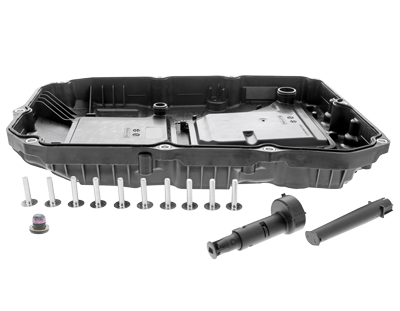 view V30-2377-BEK
V30-2377
V30-2377 also supplies the right amount of automatic transmission oil for a professional oil change.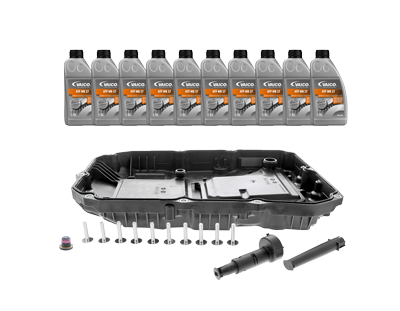 view V30-2377
V30-2377-XXL
Our VAICO XXL Expert Kit+ V30-2377-XXL also has automatic transmission oil for flushing the transmission.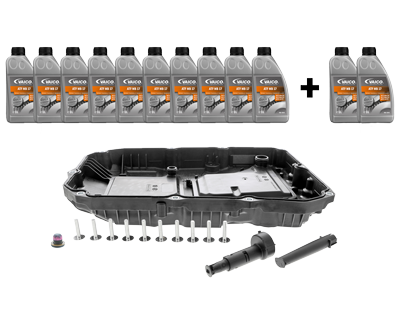 view V30-2377-XXL
Take a look at our latest video!
9G-TRONIC transmission flushing on the Mercedes-Benz 300 E.