Against overheating and frost damage: Coolant and Antifreeze from ACKOJA
Coolant and Antifreeze for the motor: protection against overheating and for constant operating temperatures. But the ACKOJA Antifreeze can do even more and is Made in Germany and free of environmentally harmful substances.
Purpose
The main purpose of coolant is to cool the motor. This prevents overheating and keeps the operating temperature constant. Coolant must also fulfil other, much more complex tasks.
Tasks
Cool the engine by the cooling system
Protect the cooler, water pumps and cooling channels against corrosion
Clean and prevent from mineral deposits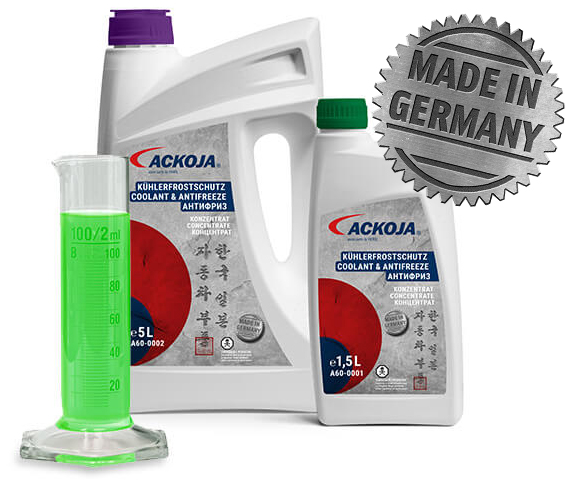 available colors: green & violet

SYMPTOMS
Engine temperature is too high
Too little coolant in the expansion tank
Oil film and oil stains in the expansion tank
Brown coolant in the expansion tank

REASONS FOR FAILURE
Coolant level is too low/high
Wrong coolant
Change interval has been exceeded
Cooling system is leaking

CONSEQUENTIAL DAMAGES
Motor damage due to overheating
Environmental pollution due to the release of coolant
Clogging of the cooling channels
Lack of corrosion protection
Damage to the cylinder head gasket

RECOMMENDED BY THE EXPERTS
Have the level of the expansion tank checked regularly
Replace the coolant every 2-4 years, in accordance with the manufacturer instructions
Use a coolant specified by the manufacturer
Coolant concentrations are between -20 °C and -30 °C
Do not open the system when engine is warm
COOLANT FROM ACKOJA
You can find more information at www.vierol-shop.de
Long coolant service life:Additives and additional supplements prevent depostis and foaming of the coolant
Optimal protection of the metal components:Corrosion inhibitors form a strong protective layer on the surface
Free from environmentally harmful substances:based on ethylene glycol and free of silicates and potentially harmful substances such as nitrites, amines, phosphates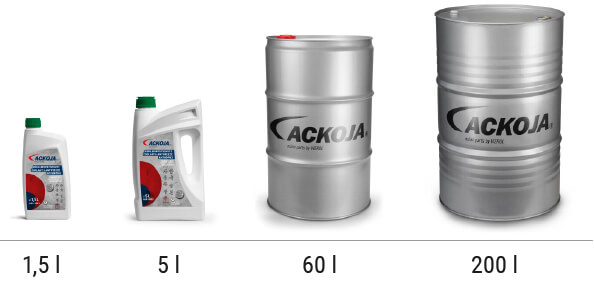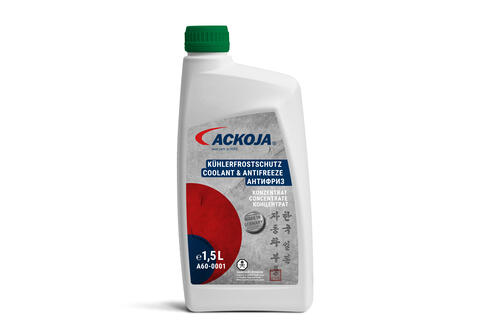 Hyundai Long Life Coolant, 07100-00200, 07100-00400, 00232-19010
Mazda FL22 Coolant, 000077508E20, C122CL005A4X, C100CL005A4X
Nissan Anti-freeze Coolant(L250), KE90299934, KE90299944, KLD4100002EU, KLD41-00002, 999MP-GTRT00P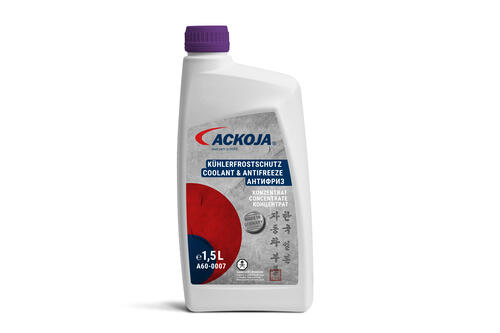 Honda
Hyundai
Kia
Mitsubish 0103044, 0103045, MZ311986
Nissan
Toyota 08889-020115, 08889-01005,08889-80014, 08889-80015
Coolant and Antifreeze ready mix -20°C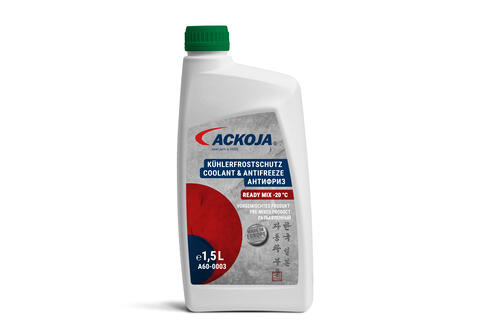 Hyundai Long Life Coolant, 07100-00200, 07100-00400, 00232-19010
Mazda FL22 Coolant, 000077508E20, C122CL005A4X, C100CL005A4X
Nissan Anti-freeze Coolant(L250), KE90299934, KE90299944, KLD4100002EU, KLD41-00002, 999MP-GTRT00P
Coolant and Antifreeze ready mix -20°C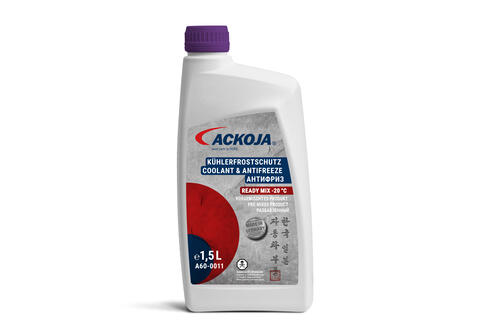 Honda
Hyundai
Kia
Mitsubishi 0103044, 0103045, MZ311986
Nissan
Toyota 08889-020115, 08889-01005,08889-80014, 08889-80015

» Discover the range

» Download PDF