VAICO camshaft adjustment
How does camshaft adjustment work? And what does VAICO offer for repair solutions? Read now.
Modern combustion engines have a camshaft adjustment, also known as variable camshaft or valve control. The adjustment of the valve opening times and the valve lift ensures an increase in the efficiency of the motor and allows, by the correct adaptation to the respective load state of the motor, significant torque gain at low speeds, increased performance at high speeds, good exhaust emissions at idle, as well as fuel savings in all operating states.

Phase adjustment
The most widely used technique is the so-called phase adjustment, which takes place either only on the inlet or on the inlet and outlet camshaft. A wing cell adjuster is located between the camshaft and the drive wheel and is switched by oil pressure via electronic solenoid valves by signals from the engine control unit.
Errors and error correction
The camshaft adjustment system operates at a quite low oil pressure of 0.7 - 1 bar using the oil pressure generated by the engine oil pump in the engine. Therefore, even the smallest deposits, impurities or foreign bodies in the oil circuit can block the canals and moving parts of the solenoid valves and wing cell adjusters and lead to malfunctions on the adjustment system. Electronic faults, especially on the solenoid- and control valves, also lead to malfunctions. These are expressed by lighting up the engine control lamp, loss of power, high fuel consumption or a rough idling.
In the event of problems and defects in the camshaft adjustment, many vehicle manufacturers now specify that the wing cell adjusters should be renewed together with the solenoid valves.
That offers VAICO
VAICO offers appropriate EXPERT KITS+, which, depending on the engine, include the adjusters and solenoid valves as well as the required mounting material (e.g. seals and screws).
In addition to the large repair solutions, there are also special motor-specific cases, such as the Mercedes M271 engine. Here, oil rises through the cables to the control unit via leaky solenoid switches and can damage it. With V30-3429-BEK, VAICO offers the right EXPERT KIT+ consisting of 2 solenoid switches, 2 oil stop cables and the required seals and screws.
Repair Kit, camshaft adjustment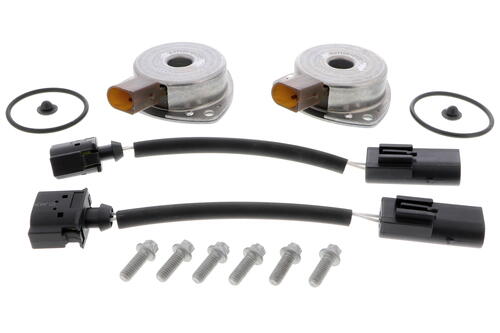 M271.9xx
Repair Kit, camshaft adjustment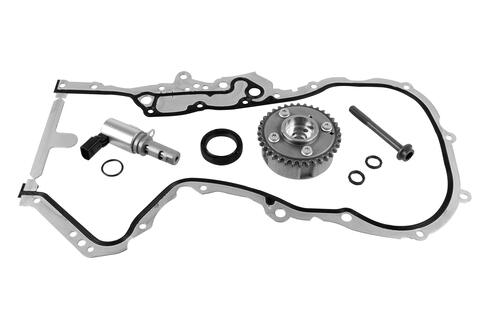 A3, Golf, Passat, 1.4 TFSI