VAICO, your partner for automatic transmission components
The engine and transmission are the heart of the vehicle. VAICO is a quality brand that has established itself as a reputable brand in the worldwide free parts market within these complex product sectors over the last 15 years. Learn more and give us a try!
Professional transmission maintenance made easy with VAICO Expert Kits+
complete repair kits including gasket, assembly material and transmission oils certified by vehicle manufacturer
high-quality filter media in original quality
special lateral ring magnets ensure equal adhesion even of the smallest abrasion particles in oil
cost savings through the exchangeable filter system for VAICO transmission oil pans made of plastic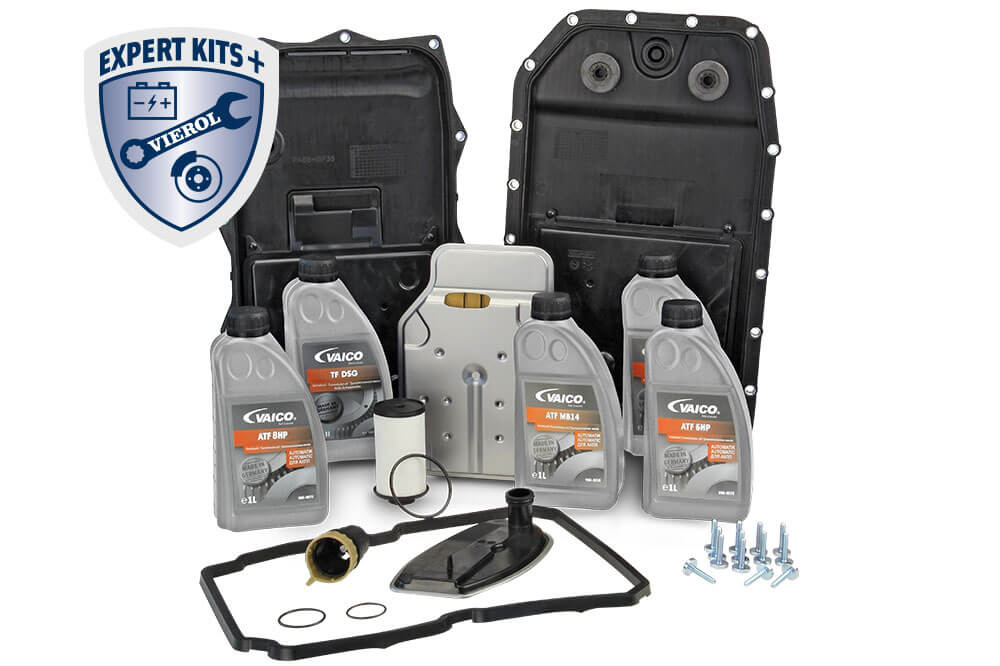 VAICO, your expert for automatic transmission components
VAICO offers a comprehensive range of products in the transmission component sector with over 700 products for over 10,000 vehicle models.
Our "Expert Kits+" solutions are particularly innovative. With V20-2088 for example, VAICO supplies a complete BMW oil exchange kit (e.g. fitting E60, E65, E90, F01, X5, X6) including all necessary components such as the right oil quantity, oil pan with exchangeable filter, seal, oil drain plug, and the appropriate set of screws and housings.
The exchangeable filter system for transmission oil pans is made of plastic and enables a cost-effective replacement of the individual transmission filter, which is not possible with the BMW original replacement part. Vehicle-specific kits are completed with the housings contained within. The individual requirements of workshops remain VAICO's top priority.
We continuously invest in improving the quality and manufacturing of our VAICO products. One example is our BMW transmission oil pan V20-0574 with integrated exchangeable filter, which is also included in the oil change kit: in addition to a flexible pan design, it offers special lateral ring magnets, which ensure equal adhesion even of the smallest abrasion particles in oil.
The filter media in VAICO transmission filters, as well as the accessories and assembly materials are in the same quality as the original manufacturer. Suitable seals and sealing rings consist of quality, heat-resistant ACM, NBR, or Viton elastomers.
Always up-to-date: Our VAICO experts have already extended the range to offer new filter systems for the Mercedes-Benz 9G-Tronic and for the AUDI/ZF and VW DSG transmissions for vehicles built in 2016 or later on the independent parts market.
We'll show you how it works: With our VAICO Expert Kits+ V30-2254 for the Mercedes-Benz E270 CDI, our experts show all tips and tricks for a successful filter and oil change on an automatic transmission vehicle with the help of a video. Further installation tips and videos can be found on our Facebook and YouTube social media channels – come and have a look!
With more than 20,000 quality products in over 150 different product groups, VAICO offers a wide range of high-quality replacement parts for repairs which fairly reflect the current market value. In addition to transmission filter kits, further available Expert Kits+ are timing chain kits, PDC sensor and EGR kits as well as filter and coupling kits.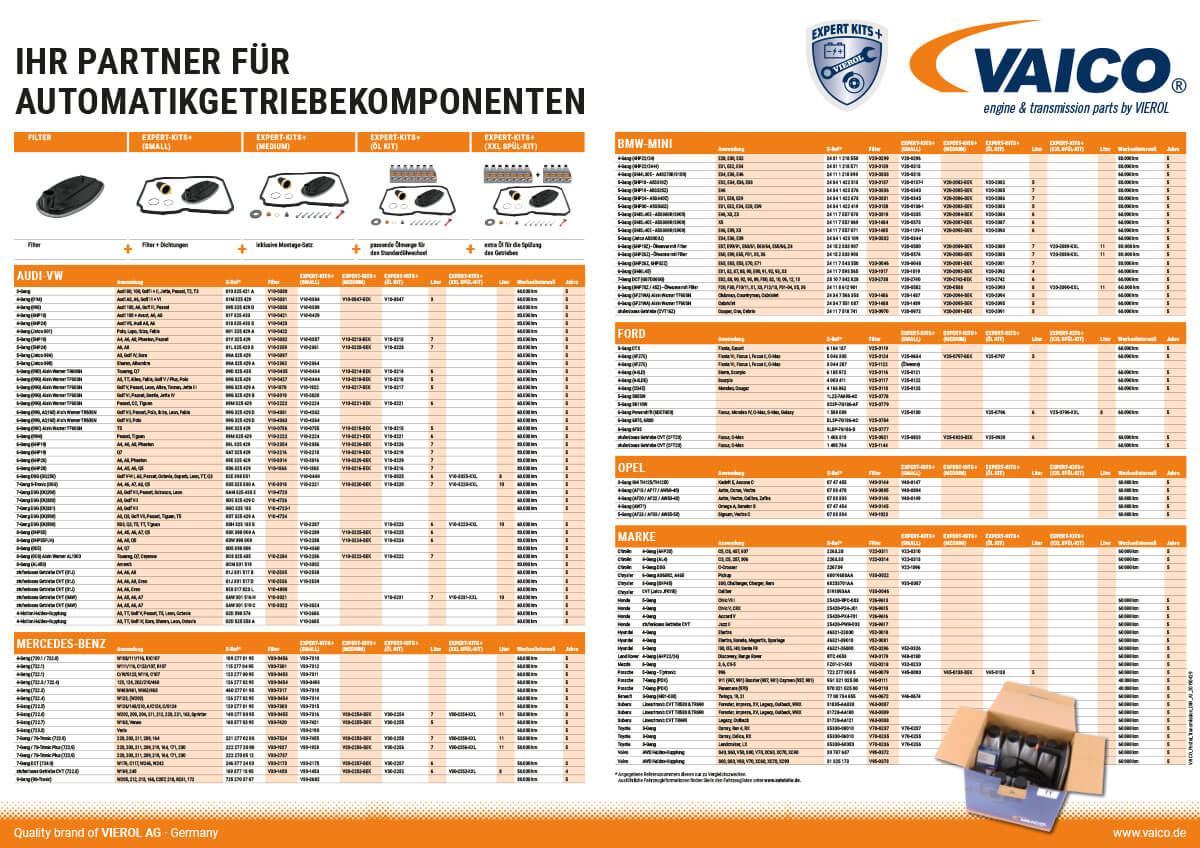 Symptoms
Warming up is delayed
Juddering while switching gears
Start-up deficiency
Skipping load stages
Increased fuel consumption

Reasons for failure
Oil performance falls
Dirt in the control unit

Consequential damages
Increased wear of the transmission
Transmission damage
Product highlights
Oil Pan, Automatic Transmission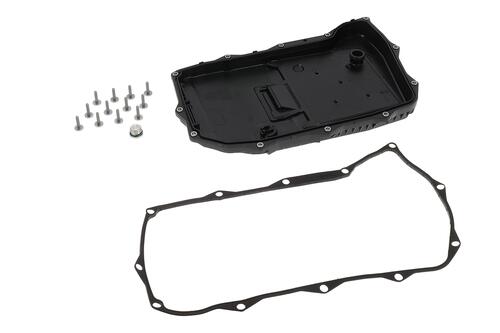 Audi A4, A5, Q5, Q7
Hydraulic Filter, Automatic Transmission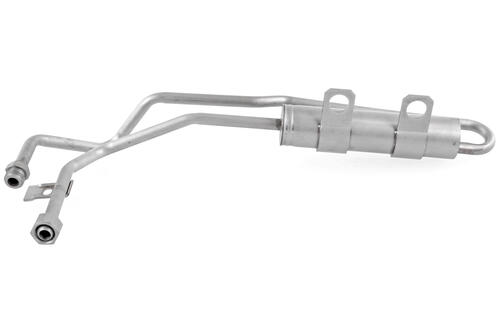 Audi A4, A6
Seat Exeo
Parts Kit, Automatic Transmission Oil Change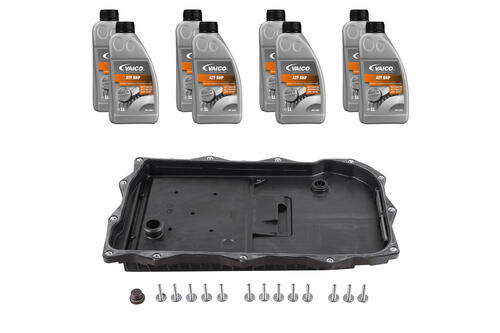 BMW F01-04, F10/11, F12/13, F20, F30, X1, X3, X5, X6
Parts Kit, Automatic Transmission Oil Change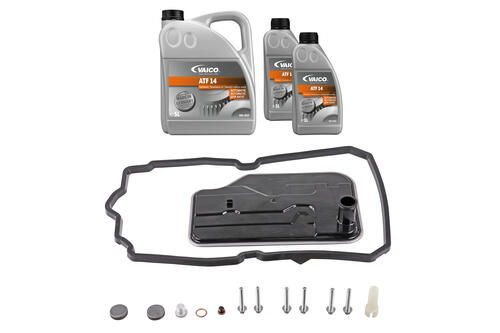 Mercedes-Benz C209, R171, R230, W164, W203, W211
VAICO experts show how to change oil in automatic transmissions (German)

» download in PDF format

» discover the full range of VAICO automatic transmission components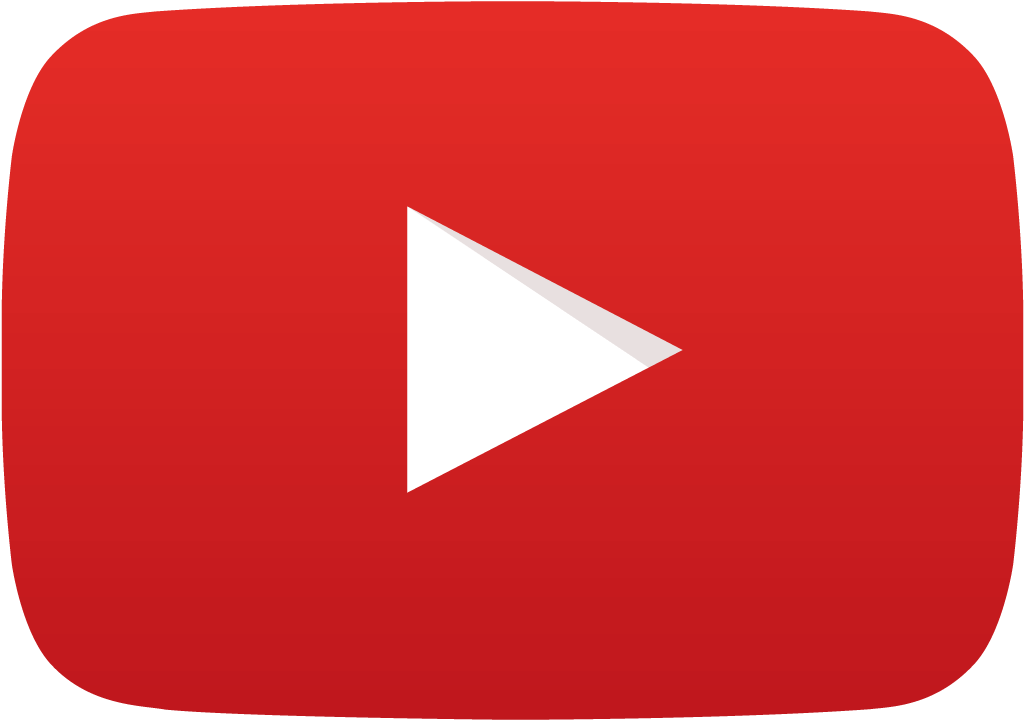 » more videos on YouTube